Here's a C79 rescan for you all. It isn't as awesomely sexy as the Nier doujin ToddSpecial did a little while ago, but it's still hot. Plus, Selvaria. :9 Enjoy!
Only posting the cover because holycrap did it take me a while to get right, but damn did I do a good job, if I do say so myself. Which I just did.
Did I mention I'm humble, too?
Megaupload-300dpi
Hotfile-300dpi
And now for a preview of an upcoming scan: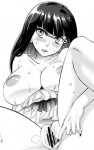 Anyone who can guess the circle of this one will get a special prize! (Special prizes void where prohibited, which is everyone but Jupiter. Let's hear it for the Jovian Lizards!)